Aye, begarra and 'tis the day! Happy St. Patrick's Day to ya...Top o' the mornin' 'n all! It's Teacup Thursday with Miss Spenser's Blog and I am looking forward to visiting everyone's teacup offerings. I am afraid I don't have Irish breakfast tea on hand so I'm sipping my boring Tetley English blend this morning....too much of a hurry to do my post to brew some more exciting loose tea. Later...there's always afternoon tea time!
This is an art deco era Shelley China, England teacup in a shape that isn't seen too often. The shape is called Oxford...many of Shelley shapes are named after English cities....and the design doesn't have a name. I call it Green Bands. Now isn't that imaginative???? The teacup has the British Registry Date (or RD#) for 1935 for the design, but the mark dates the teacup to slightly later. The cup was made from 1940 until the pottery closed in 1966. I love the clean lines and deco styling, which is a favorite period of mine.
For more information about the Shelley art deco teacup at Antiques And Teacups, click on the photos.
To mix design metaphors...because this is the green tea cozy I could find, here is a green and white toile tea cozy with a matching trivet to keep your teapot warm.
You can imagine they are Irish instead of French on a day like St. Patrick's Day! For more info on the green toile tea cozy with trivet at Antiques And Teacups, click on the photos.
Okay, we have the teacup and the tea cozy...now we need something to have with our tea! This is a recipe courtesy of Hoffman Publications who publish 2 of my favorite magazines Victoria and TeaTime Magazine. I am a great fan of madeleines...even have a madeleine baking pan! The cookies ar dainty, delicate and perfect as part of a special tea time. Maybe I'll make these for tea this afternoon....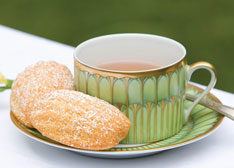 ORANGE-THYME MADELEINES
Makes 2 1/2 dozen madeleines

3/4 cup plus 2 tablespoons unsalted butter, softened, divided
4 large eggs, room temperature
1/8 teaspoon fine-grain sea salt
2/3 cup sugar
2 teaspoons chopped fresh thyme
1 teaspoon finely grated fresh orange zest
1 teaspoon vanilla extract
3/4 cup unbleached all-purpose flour
Confectioners' sugar, for dusting

1. Preheat oven to 350°. Grease 2 madeleine pans with 2 tablespoons butter. Set aside.
2. In a small saucepan over medium heat, melt remaining 3/4 cup butter until butter is brown and smells nutty, approximately 20 minutes. Strain butter through a mesh sieve lined with a paper towel. Discard solids. Cool brown butter to room temperature. Set aside.
3. In a large bowl and using an electric mixer at medium-high speed, combine eggs and salt, beating until thick and tripled in volume, approximately 4 minutes. Increase mixer speed to high. Add sugar in a slow, steady stream, beating until mixture is thick and ribbonlike, approximately 3 minutes.
4. Gently fold in thyme, orange zest, and vanilla extract. Fold in reserved brown butter. Sift flour over egg mixture. Gently fold flour into batter until just combined.
5. Spoon batter into prepared pans, filling each well two-thirds to three-quarters full. Bake until edges are golden brown, 12 to 14 minutes. Remove from oven, and unmold immediately onto metal cooling racks. When cool, dust madeleines with confectioners' sugar.

I hope you have a great St. Patrick's Day. I started cooking my corned beef yesterday. Today I'll skim it and put it back to slowly simmer, adding the cabbage for the last 30 mins. We have potatoes...of course! and carrots as well. A favorite meal!