Happy Mothering Sunday to everyone in the UK. Always a reminder that spring is here and the American Mother's Day can't be far behind.
Cottage Journal, from Hoffman Media is sent to those of us who subscribe to Victoria Magazine, Tea Time Magazine or Southern Lady magazine among others. If you visit the website, you can sign up to receive it as well.
The recipe I especially liked this issue was for Savory Springtime Bites which I will post here: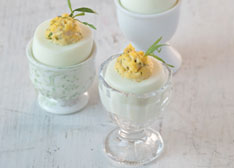 SAVORY SPRINGTIME BITES
Tarragon and Shallot Deviled Eggs
Yield: 2 dozen eggs

1. Mash 1 dozen hard-boiled egg yolks, and add 6 tablespoons mayonnaise, 1 tablespoon mustard, 1 1/2 tablespoons chopped fresh tarragon, 1 1/2 tablespoons finely chopped shallot, 1/2 teaspoon ground black pepper, and 1/4 teaspoon salt.
2. Spoon egg-yolk mixture into egg whites.
3. Garnish with fresh tarragon sprigs.

Hard-Boiled Eggs
1. Place 1 dozen large eggs in a large saucepan with enough cold water to cover.
2. Cook over high heat until water begins to boil.
3. Reduce heat to medium.
4. Let eggs simmer for 10 minutes.
5. Remove eggs from heat.
6. Drain eggs, and rinse with cold water.
7. Peel eggs, discarding shells.
8. Halve eggs lengthwise.
9. Remove yolks, and place in a small bowl; set whites aside.

What I especially liked about the recipe...besides the fact that deviled or stuffed eggs always make me think
of spring tea parties and left over Easter eggs, is the photo showed an innovative serving method. The eggs are cut across rather than horizontally and served in eggcups. I am an eggcup lover!
How cute is that! Below are several eggcups that looked particularly springlike to me...except for the Emma Bridgewater Black Toast pattern eggcup...from the stock at antiques And Teacups. For more info on any of the eggcups, click on the photo.
This is a Paragon eggcup in the Honeysuckle pattern
This is a George Jones Crescent China egg cup in the Old English pattern
This is by Villeroy and Boch in the Jamaica pattern
And this of course is Emma Bridgewater's black Toast and Marmalade pattern.
I've also seen eggcups used as individual nosegay vases at place settings with small bouquets of violets, sweet williams or daphne flowers. It's amazing the fun ways you can find to be creative with and repurpose everyday items.
Have a wonderful Sunday and remember to be thankful for the many blessings we have. I certainly am.