Hello and welcome to Tuesday Cuppa Tea for Thanksgiving week...
This week has been challenging...we have had some major storms, winds, power outages, and my husband is not well... but, as always, we are so thankful for God's Grace and blessings...His daily Grace...which this Thanksgiving week brings such a reminder for many of peace in the midst of turmoil...
I am posting this hurriedly in between storms, earlier than usual...the lights have been off several times this morning already, and so...a bit rushed...
I've lost the post twice already!
My teacup today is a Shelleu in the Gainsborough shape, which I love. The pattern is not specifically named, but is sometimes referred to by collectors as Green Leaves.
The mark only tells us it was made between 1940 and 1966, and the pattern books have no other in fo either. It was made in different colors, but I have only seen it in this color. Love the fancy gold veining...
Sorry to make this short, but I want to get it posted as the winds are agin buffeting the house, and the power flickering...
I wanted to share this recipe which is one of our favorites, and my husband has requested it for Thanksgiving...
And this is what I'm making for Thanksgiving: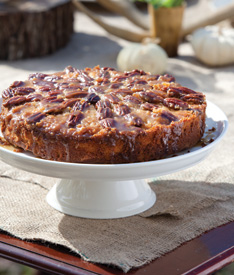 PECAN UPSIDE-DOWN CAKE
Makes 1 (9-inch) cake

1/2 cup unsalted butter, softened
1 cup sugar
3 large eggs
1/2 teaspoon vanilla extract
1 1/2 cups cake flour
1 teaspoon baking powder
1/4 teaspoon salt
1/2 cup plus 2 tablespoons whole buttermilk
1 cup chopped pecans
1/4 cup unsalted butter, melted
1 cup firmly packed light brown sugar
1/4 cup heavy whipping cream
1 cup pecan halves
Brown-Sugar Brandy Sauce (recipe follows)

1. Preheat oven to 350°.
2. In a large bowl, beat softened butter at medium speed with an electric mixer until creamy. Gradually add sugar, beating until fluffy. Add eggs, one at a time, beating well after each addition. Add vanilla.
3. In a medium bowl, combine flour, baking powder, and salt. Sift twice.
4. Add flour mixture to butter mixture, alternately with buttermilk, beginning and ending with flour mixture. Fold in chopped pecans.
5. In a medium bowl, combine melted butter and brown sugar, mixing well. Add cream, stirring until smooth.
6. Pour brown-sugar mixture into bottom of a 9-inch cake pan. Arrange 1 cup pecan halves in brown-sugar mixture. Spoon prepared batter over pecan halves.
7. Bake until a wooden pick inserted in the center comes out clean, 40 to 45 minutes. Run a knife around the edge of cake pan to loosen cake edges. Immediately turn cake onto a serving dish. Serve with Brown-Sugar Brandy Sauce.



BROWN-SUGAR BRANDY SAUCE


Makes approximately 1 cup

3 tablespoons unsalted butter
2 cups firmly packed light brown sugar
1/4 cup brandy
1/4 cup heavy whipping cream

1. In a medium saucepan, melt butter over medium heat. Add brown sugar, whisking to combine. Add brandy, whisking to combine. Add cream, whisking until smooth.
2. Cook, whisking frequently, until sauce is heated through, 2 to 3 minutes. Sauce can be made ahead and stored in refrigerator. Reheat in the microwave before serving.
Lastly, a reminder that I am having a giveaway for a Jan Karon Christmas themed book, Shepherds Abiding...
To enter, PLEASE go to this blue link above and comment ENTER...not on this post...
Thanks so much for joining me, and may you have a wonderful, warm Thanksgiving filled with good food, friends, lots of tea and a grateful heart!
I am joining:
Share Your Cup
Here is the Tuesday Cuppa Tea linky for your tea related posts...please remember that it is SSSLLLOOOOOOWWWW but if you are patient...it's there! I am so looking forward to visiting you!