I got my October 2011 issue of Country Living Magazine yesterday, and if you don't have a subscription, you might want to pick it up. It has the most fabulous idea for elegant fall decor with pumpkins by decoupaging them with fabric. All the directions are there and I LOVE the look!
What a great idea! Who knew that the 1970s fad of decoupage would be such a great decorating tool now??? And a fall recipe you will love!!!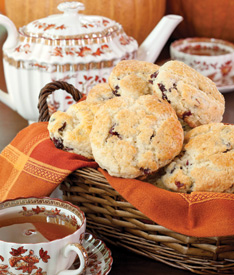 ORANGE–CRANBERRY SCONES
Makes 9 scones

2 cups all-purpose flour 1/2 cup sugar
1 tablespoon baking powder
1/4 teaspoon salt
1 tablespoon orange zest
1/2 cup cold butter
1/2 cup dried cranberries
6 tablespoons milk
2 large eggs, divided and beaten
1 teaspoon turbinado sugar

1. Preheat oven to 425°.
2. Line a baking sheet with parchment paper. Set aside.
3. In a medium bowl, combine flour, sugar, baking powder, salt, and orange zest, whisking until incorporated. Using a pastry blender, cut butter into flour mixture until mixture resembles coarse crumbs. Add cranberries, stirring to combine. Set aside.
4. In a small bowl, combine milk and 1 beaten egg, stirring well. Add to flour mixture, stirring just until combined. Turn dough out onto a floured surface, and knead gently 6 to 8 times. Roll dough to a 3/4-inch thickness. Using a 2 1/2-inch round cutter, cut scones from dough. Brush scones with remaining beaten egg, and sprinkle with turbinado sugar.
5. Bake until edges are golden brown, 10 to 12 minutes.
I made these for tea last week...they were wonderful...and so seasonal!
And for Teacup Thursday with Miss Spenser's Blog, I am sharing a Sode teacup and saucer in the Buttercup pattern that was inspired by the recipe above which was taken from Cottage Journal and Tea Time Magazine. This is actually a 1970s copy of a pattern first developed in 1904. I love the molded texture & cute hand colored transferware design.
For more info on the Spode Buttercup teacup and saucer at Antiques And Teacups, click on the photos.